Has it ever occurred to you that you are travelling and suddenly you find yourself wondering - Where am I? Sometimes, getting the exact info about your locality can be difficult and troublesome.
In order to solve this problem, BigDataCloud has released one of its kind - Where Am I? - Locality Info app which is now available on iOS App Store.
One of the key differentiators of the app is that, unlike other geolocation apps, it uses proprietary reverse geocoding algorithm development by BigDataCloud. We are the first to deliver administrative/non-administrative boundaries-based results and as such, it is the perfect choice when you need to resolve a user's practical area such as their city, state or country rather than their street address. You can read more about it in our last blog post - Free Reverse Geocoding Javascript API.
Some of the key benefits of the app are:
Uses Lightning-fast (sub-millisecond response time) Reverse Geocoding API
Provides detailed locality data
Supports 147 global languages
Locality data are linked to respective Wiki pages to reveal additional open-source data about your location.
Get your GPS data in various formats Decimal, DMS and MGRS.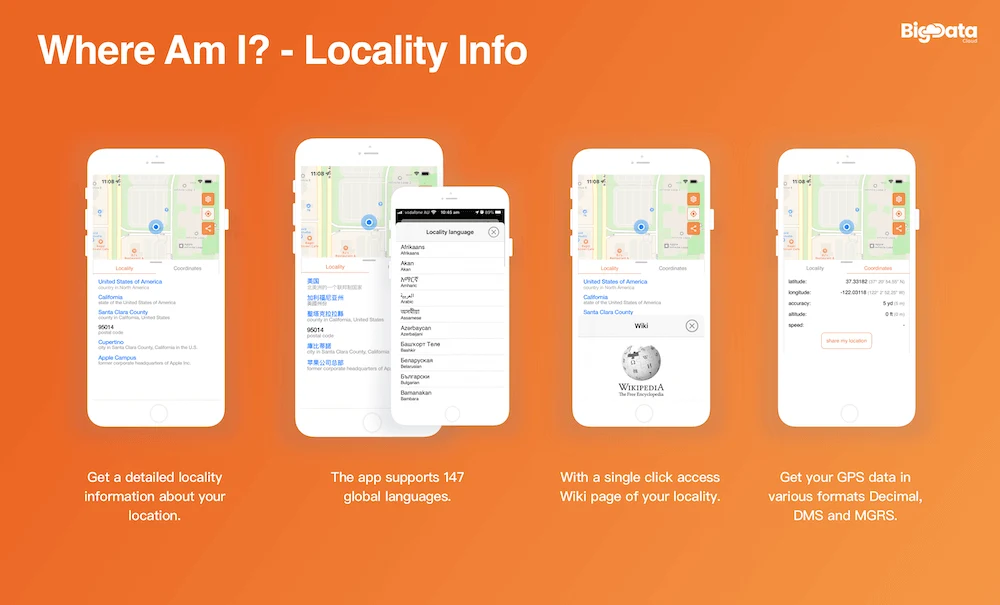 Also, we have made it super simple to use it. You just have to install the app and start using it. No user account creation hassle, no hidden cost and most importantly Ad-free.
This app is a true demonstration of the power of BigDataCloud's reverse geocoding API services. The API is available for free for Client-Side implementation which doesn't need any user registration or API key.
If you are a developer looking to build apps that require true real-time locality info as presented in this app then this is the best option available in the market. It's easy-to-use, affordable and accurate.
Download our iOS App and start using it now.